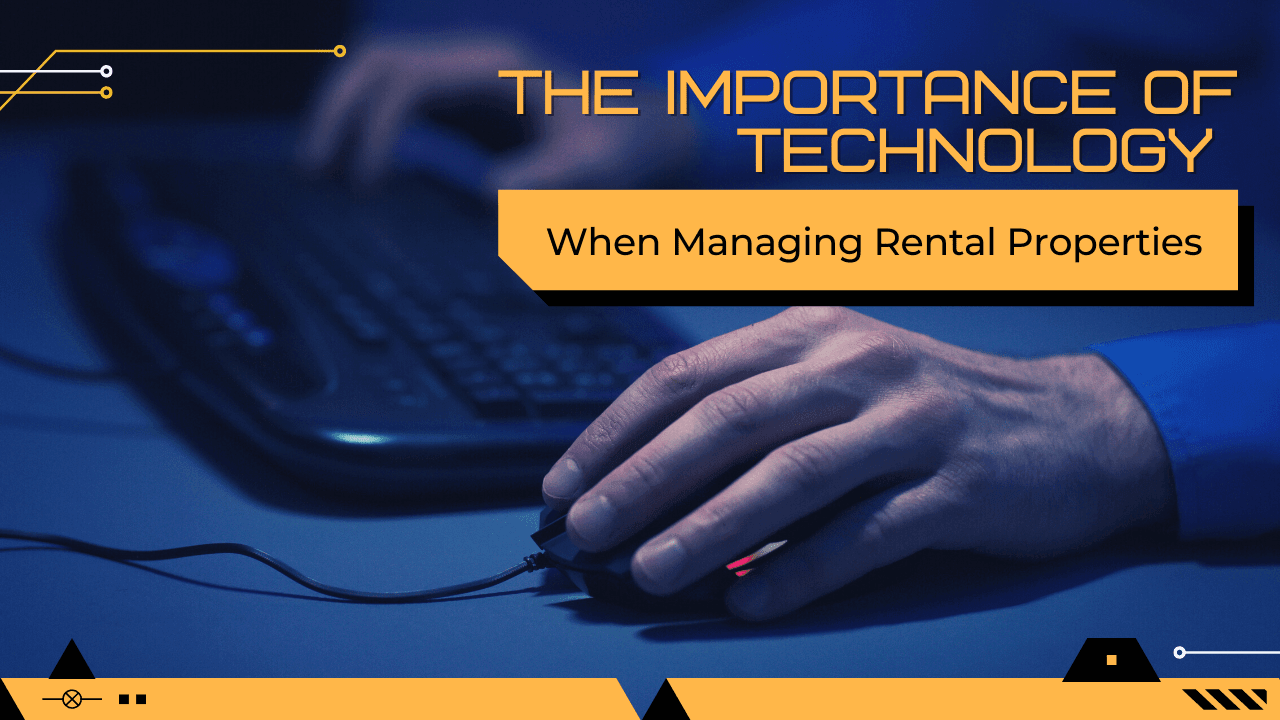 If you're like most people, you've come to the point where it's perfectly natural to shop online, order groceries online, book reservations from your phone, and even pay your bills online.
We use technology in nearly every part of our daily lives. And, it's always changing.
Like nearly every other industry, property management and real estate have benefitted from the growth in technology. We have hundreds of platforms, software, apps, and automated services that allow us to lease, manage, and maintain your investments with ease.
This is still largely a relationship business. But, we can even use technology to strengthen our relationships, communicate better, and provide services that are essential to your success as a rental property owner.
At TCT Property Management Services, we've always been willing to invest in technology. We know it better serves our clients and our tenants. It allows us to build a larger network of vendors and resources. We're innovative and flexible thanks to our ability to experiment and improve.
With a commitment to finding the best and most efficient ways to deliver our property management services to both owners and tenants, we embrace the tech that helps us automate our processes and keep costs down. The systems we use also increase the satisfaction of our owners and tenants.
Let's talk about how we use technology and why it matters.
Better Marketing and Leasing in the East Valley
Vacancy rates are lower than ever. That's partly due to the current market, but it's also largely due to technology. That's to our systems, we're able to market and lease your properties faster.
It's so much easier to share information and collect documentation, which are things that are absolutely necessary during the leasing process. This might be something as easy as a digital signature on a lease agreement or a faster syndication when we're marketing your property. Instead of showing up on five rental websites, your available Mesa rental property will be listed on 50 of those sites. Your leasing team doesn't have to spend hours loading those listings onto each site. Your available property is instantly shared to a larger pool of tenants.
Technology delivers good data. This helps us establish an accurate rental value for your property. This impacts the length of your vacancy and your tenant quality. Owners like you benefit from our technology with competitive, profitable pricing.
We also have a better marketing process thanks to the technology we use.
We can respond to tenants faster, set up showings on their schedules, and even provide self-showing technology like lockboxes and digital keys so we don't spend valuable time trying to agree on an appointment.
The entire process moves faster, ensuring you don't lose money on long vacancies and a disorganized leasing process.
Screening East Valley Tenants Consistently
Screening requires us to find well-qualified tenants without violating fair housing or privacy laws. We focus on the background checking that needs to be done, and we put together rental criteria so prospective residents know exactly what we're looking for.
We have the systems in place to screen tenants faster and with detailed accuracy.
With our screening software, we can stay compliant with the Fair Housing Act and the Fair Credit Reporting Act. All that information we collect on applicants needs to be protected. We need to make decisions based on what the data tells us, not how we feel.
It's easier than ever to do that with an automated, consistent online application process. There's less risk that one application will be treated differently than another. Our well-documented screening process keeps us compliant with all laws, and that reduces your risk and liability. Everything is automated to the point that there's no room for accidental discrimination. The system we use to screen applicants helps us remain objective.
Faster and more consistent screening is due to our technology.
Delivering Online Portals for Transparency and Efficiency
Online systems and portals provide more accountability and efficiency in our management process. We're able to respond to tenants and owners with questions, and we can provide more information to more people.
You'll have an online portal when you work with us, and your tenants will have their own online portal when they rent a home from us. This is standard in Mesa property management now, and it's a popular feature for both renters and owners.
Mesa tenants can use their portals to:



Pay rent on time




Schedule maintenance requests




Send us messages




Review their lease agreement




Access resources and information



The tenant portal helps us collect rent more efficiently, and tenants are less likely to pay late when they can schedule payments in advance or set up recurring withdrawals from their bank accounts. It's secure and convenient, and it keeps the entire process simple and clear.
The owner portal helps owners:



See all accounting and financial statements




Approve or review maintenance invoices




Access inspection reports




View lease documents




Download tax forms



As an owner, you will know immediately when rent has been paid or if a notice has been served demanding late rent. You can review correspondence we send to tenants, including renewal offers and rental receipts.
Setting up an online portal is easy and it starts with our team. When you begin working with us or a new tenant is approved for your property, we send out instructions for how to log into the tenant and maintain your account. You can access your portal from a desktop, laptop, tablet, or phone.
Maintenance and Accounting Made Easy
It's all about systems. That's what technology really helps us do: provide automated and transparent systems that make sense. This is especially important when it comes to maintenance, inspections, and accounting.





Maintenance Requests and Inspection Reports





We maintain your rental property more cost-effectively and efficiently with our technology. Tenants can request routine maintenance online, and they can include photos and other details that support the repair request. We can respond quickly and keep a careful and documented paper trail of what work was done to your property and why. We evaluate the issue, assign the repair to a qualified vendor, and follow up when the work is complete. It also provides a documented list of what occurred during the reporting and repairing process. We have a record of when the request was made and what we did about it.
Inspection reports are much easier to share with our technology. As an owner, you'll receive detailed reports with photos and videos so you know exactly how your property looks before a tenant moves in, after a tenant moves out, and even during the lease period.





Accounting Statements and Financial Reports





Access to financial reports and accounting statements is perhaps one of the best reasons to invest in great technology. Tracking the income and expenses associated with your Mesa rental property is a lot easier with good technology. We can provide reports, statements, tax forms, and anything you may need to get an idea of how your investment is performing. Use your online owner's portal to track maintenance invoices, see if rent has been paid, and check your expenses.
Technology Delivers Better Communication and More Transparency
As a company, we value responsive and accessible communication. It's important to us. We're able to stay in touch and be available because of our technology. Communication is a lot more streamlined thanks to our tech tools.
Our owners are always invited to call us or set up an in person meeting. If you've ever been in touch with us, you know we do our best to answer promptly and make return calls when necessary. But, that does not have to be your only option if you have a question or want to share some information. Instead of calling on the phone and waiting to talk to us, we're more than happy to receive a quick text with a question or read an email that comes in outside of general business hours. It gives us time to organize a response and do whatever research may be necessary to provide the required information.
Thanks to our investment in technology, our team is free to communicate in a variety of ways, and that's led to higher satisfaction among our owners and our tenants. We know there's a large demographic of tenants who prefer texts and emails to phone calls or in-person meetings. We use our online system to track and document all correspondence, keeping us organized and compliant with all state, local, and federal laws.
Our commitment to communication is especially valuable for the out of the state owners we work with. Some of our investors are even out of the country. We can respond to questions and get in touch without worrying about time zones, cell signals, and schedules.
We want you to feel good about the technology we use, and we'd be happy to talk more about what it means for the effective management of your rental property. Please contact us at TCT Property Management Services. We manage homes throughout the East Valley, including Mesa, Gilbert, Chandler, Scottsdale, and Phoenix.